Centaur U HR – Scanning AFM/Confocal/Raman/Fluorescence system with double dispersion monochromator for Raman/Fluorescence and
ARS3000
The main advantages of the system are:
Compact size.

Full automation of the system.

The original design of the spectrometer.

High light transmission of the device with minimal optical loss.

The confocal circuit is made according to the original scheme, provides compact dimensions and minimal drifts of optical elements.

Built-in optical microscope provides a convenient search for a place for measurements.

The design uses precision mechanical components and optics.

Can be used both in industrial laboratories and in research universities.

Base configuration price 200 000 USD.
The main components of the system are: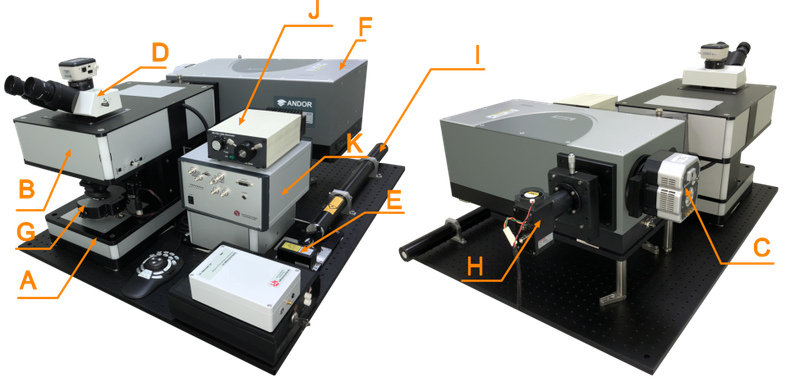 A. An automated base with a built-in flat scanner for the sample.
B. The confocal module containing the optical circuit of the excitation beam formation and the secondary (Raman radiation) detection channel.
C. Highly sensitive CCD sensor with deep cooling for recording secondary radiation spectra.
D. Trinocular optical microscope with the ability to observe the sample in both the eyepieces and the video camera.
E. Solid-state excitation laser, optional 355 nm, 473 nm, 532 nm, 785 nm. For connection of external lasers with other lines one-mode transport optical fiber is used.
F. Monochromator
G. Atomic Force Head for recording the signals of the sample topography.
H. PMU single-channel detector.
I. HeNe laser as a base for Raman spectroscopy.
Optical scheme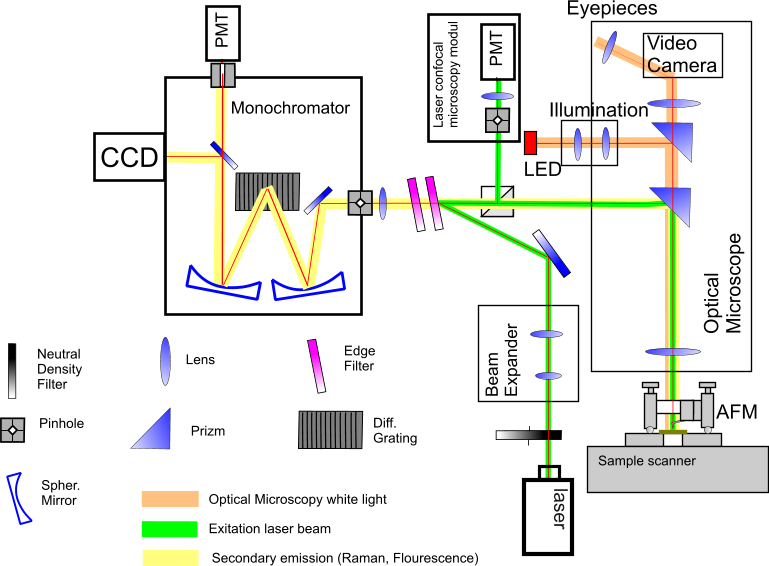 Optical sensitivity:
Spectral Resolution and range. HgNe calibration lamp spectra.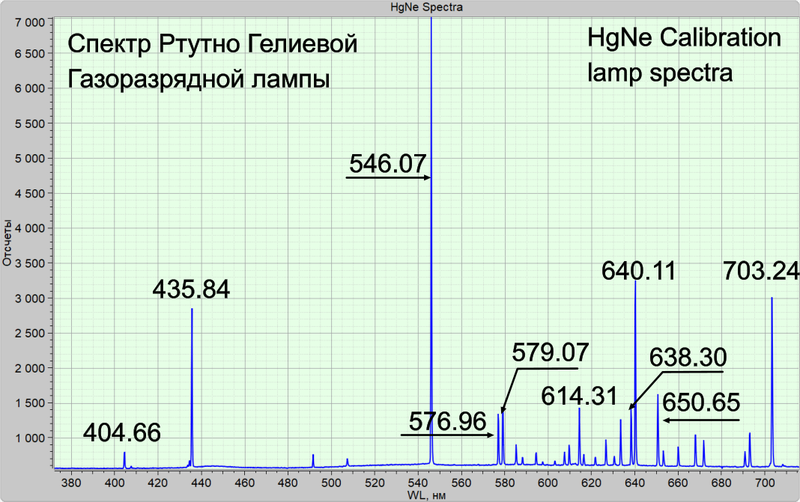 Surface optical maping:
| | |
| --- | --- |
| | |
| Laser confocal maping. Sample Si/SiO2 grating . | Raman maping. Образец Si/SiO2 grating. |
Atomic Force microscopy maping: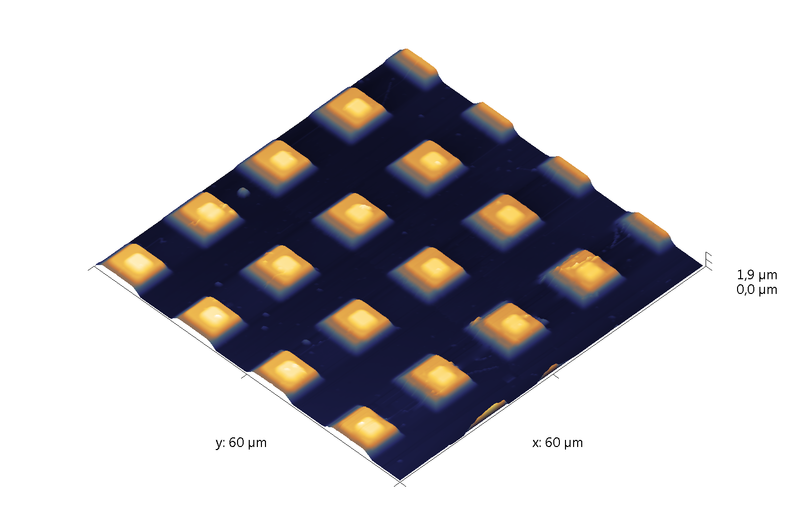 Base Specification:
AFM resolution

< 1 nm

Z AFM resolution

<0.1 nm

Scanning range

100x100x15 mkm

Secondary emission spectral range

100..5000 cm-1

Spectral resolution

<1 cm-1

Optical throughput


>80%

Exitation laser

532 nm

Detector Andor iVac 324 FI



Pixels number

1560x200 pixels

Pixel size


16 mkm

Cooling

till -60o
CCD read noise


5.8 e

dark curent


0.0028 e/pix/s

Мах speed


269 spectra/s

Monochromator  Andor Shamrock 500 i



Focal distance

500 mm

Diff. gratings





150   lines/mm

Blaze WL = 500 nm,  resolution = 0.52 nm


600   lines/mm

Blaze WL = 500 nm,  resolution = 0.13 nm

1800 lines/mm

Blaze WL = 380 nm,  resolution = 0.04 nm

Input pinhole

Constant 100 mkm

Laser Cobolt





Type

NdYg

WL

532.8 nm


Power

25 мВт

Linght width


< 1 pm

Upright optical microscope Olympus BX51



Illumination system


Diod source

Power


100W

Illumination Type


Kohler

Eyepiece

widefield с 10х/24 mm

Interdistance


50-70 mm

Trinocular with light path selector

Prizm 0:100, 50:50

Focus system


Motorized

Accuracy

100 nm

VideoCamera Moticam 2X




Type                                                                                       


1/2" CMOS

Resolution, px

2500x1800

ADC resolution


12 бит

Pixrl size


2.5 мкм

Interface

WiFi

Microobjective module





Type

Turret for 4 objectives


Objective 1




SLMPLN 50X




Optical amplification

50x

N.A.

0.35

WD

18 mm

Objective 2





MPLFLN 100X




Optical amplification

100x

N.A.

0.9

WD

1 mm

Sample positioning





Type

Motorized XYZ

Range

10x10x10mm

Accuracy

1mkm

AFM head positioning





Type

Motorized XY

Range

10x10mm

Accuracy

1mkm

Optical, AFM, scanning system





Тype

Flat XYZ stage

Range


80μmx80μmx15 μm

Resolution


< 0.01nm

Accuracy


< 1nm

image nonlinearity


<1%

Position sensors




Type


Optical encoders with sin/cos interpolation, 300 kHz

sampling rate, built-in autocallibration


AFM unit, AFM head Certus




PSD sensor

4 sectioned PD

Laser spot arrangement

2 micro screws with 0,125 mm pitch

PSD arrangement

2 micro screws with 0,125 mm pitch

Tip scanning system is optional